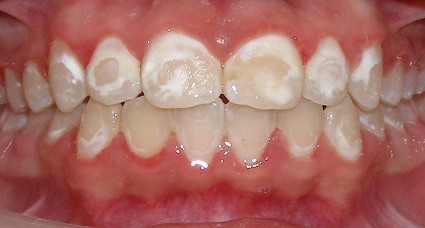 Brushing and flossing your teeth properly is essential with or without braces. With braces, caring for your teeth by thoroughly cleaning them becomes so much more important so as to prevent gingivitis, bleeding or swollen gums, cavities and decalcifications (white spots) from forming by the time brace are removed. A soft-bristled tooth brush and 3 full minutes per comprehensive brushing is what is necessary after every meal or snack.
After appliances are placed we will go over home care and brushing in detail to be certain that patients and parents are equipped to care for their mouths properly during the course of treatment.
This is what decalcification looks like. Straight teeth never looked so bad. Don't let this happen to you!